This 3 bean chili is packed with fiber and iron and will knock your socks off with taste. You can always add more chili powder or green chilis if you want more kick.
Cold weather seems to call out for something warm, and nothing beats a hot bowl of chili on a winter day. Whether you like it spicy or mild, packed with vegetables or rich with beans, chili is a versatile dish that can accommodate all sorts of tastes and preferences.
For those on a plant-based diet, a chili featuring a variety of nutrient-dense beans is an easy recipe to whip up when the temperatures dip into sweater weather.
And while you can feature just about any bean in a chili (since the answer to "which beans are good for diabetics" is "all of them"), this recipe calls on three of our favorites: pinto, kidney, and black beans.
A great way to put a healthy spin on familiar favorites!
Why are Beans So Nutritious?
Pinto beans are not only full of vitamins and minerals but may also offer several impressive health benefits. Pinto beans are primarily comprised of carbohydrates, fiber, and protein. They also pack an incredible punch of vitamins and minerals. So are pinto beans okay for diabetics? Yep! And you'll see a similar answer throughout this section.

Kidney beans are mainly composed of carbohydrates and fiber but also serve as a good source of protein. Only 3.5 ounces (100 grams) of boiled kidney beans boast almost 9 grams of protein, accounting for 27% of the total calorie content.
Kidney beans are rich in various vitamins and minerals, including:
Finally, black beans contain fiber, potassium, folate, vitamin B6, and phytonutrients to boost your health. Coupled with its lack of cholesterol, black beans are a great way to support your heart. The fiber also helps to lower the total amount of cholesterol in the blood and decrease the risk of heart disease.
Together, pinto, kidney, and black beans deliver a carbohydrate-rich meal to help regulate your blood glucose. And, depending on the spices you choose to add, the beans can satisfy many different tastes. In fact, the only time eating beans might negatively affect a person's blood sugar levels is if you're eating super sugary baked beans.
What's so Wonderful About Carbohydrate-Rich Ingredients?
Carbohydrates break down into a form of fuel called glucose, which your muscles and liver use. If you are living with type 2 diabetes already, you should definitely be aware of how carbohydrate-rich foods impact your blood glucose levels while you're in the process of reversing insulin resistance. This will help you make sure that you stay in safe ranges during your transition to a more insulin sensitizing lifestyle.
However, carbohydrates are actually a vital part of any healthy diabetes diet aimed at reversing type 2 diabetes, because they help fight the true, underlying cause of your condition: insulin resistance.
Not many people understand this, but the true underlying cause of diabetes and its complications is a condition called insulin resistance.
Insulin resistance is the buildup of dietary fat in cells that aren't meant to store it. When you have insulin resistance, your cells reject the glucose in your blood as they try to burn that fat, causing your blood glucose (blood sugar) to spike.
This is what causes the complications associated with diabetes. So by carefully reducing your dietary fat while increasing nutrient-dense carbohydrates in your diet, you are aiding your body returning to its optimal functioning.
Click here to read more about how carbohydrates affect your blood glucose.
Tips for Buying Beans
When shopping for beans, you have two options: dried beans versus canned. If you're looking to save money, dried beans are almost always cheaper than canned because one bag will last longer than a single can.
Canned beans are pre-cooked and stored in water, while dried beans are dehydrated and pre-cooked and therefore, they weigh less. After soaking or boiling your dried beans in water, they will weigh more, so in the end, you will get more from the bag of dried beans than a single can of beans.
Nutrition-wise, canned and cooked beans are relatively comparable, as dehydrated and cooked beans contain the same amount of protein, fat content, and mostly the same ingredients.
However, you should be wary while buying canned beans, as sometimes, they're stored in incredibly salty water, so be sure to read the ingredient list before grabbing that can. You can also rinse your beans, and doing so can cut the sodium content in half.
Photos by: Michael Fleming
Recipe by: Stefanie Dougherty @greensagelife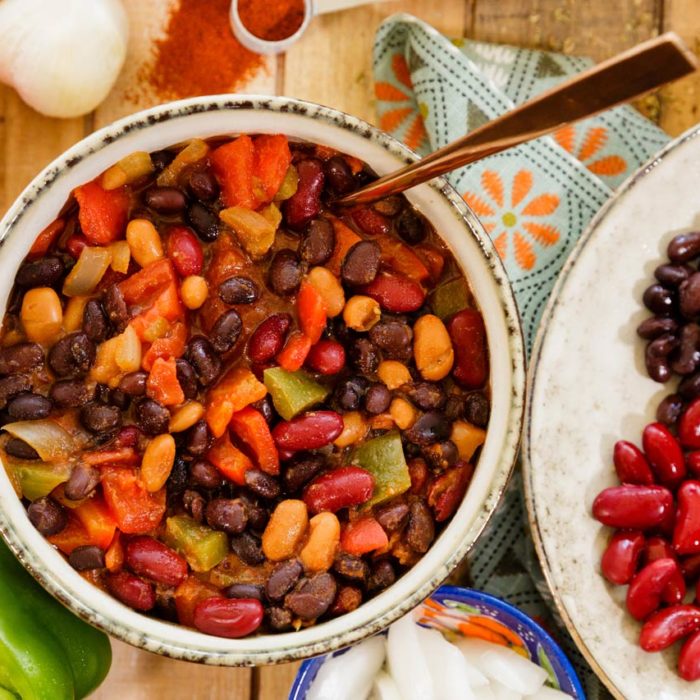 3 Bean Chili
This 3 bean chili is packed with fiber and iron and will knock your socks off with taste. You can always add more chili powder or green chilis if you want more kick.
Ingredients
Ingredients
1/4

cup

Vegetable Broth, Low-Sodium

3

cup

Onion

6

Cloves Garlic

1

Green Bell Pepper

1

Red Bell Pepper

1

tbsp

Chili Powder

2

tbsp

Ground Cumin

1/4

tsp

Oregano

1 1/2

tsp

Sweet Paprika

3

cup

Pinto Beans (Cooked)

3

cup

Red Kidney Beans (Cooked)

3

cup

Black Beans (Cooked)

3

cup

Canned Diced Tomatoes, Low-Sodium

1/2

cup

Tomato Paste

1/2

cup

Canned Green Chili

2

cup

Water

1/2

tsp

Ground Black Pepper
Instructions
Directions
In a large saucepan over medium heat, heat up the vegetable broth. Add the onion, green and red bell pepper, and garlic. Sauté, stirring until the onions are soft, 5 to 7 minutes.

Add the seasonings, all beans, diced tomatoes, tomato, green chilis, and water.

Bring to a boil, reduce heat and simmer for 30 to 40 minutes.

Serve in bowls.
Notes
Add more water if needed to achieve the consistency you prefer.
Nutrition
Calories:
471
kcal
Carbohydrates:
59.3
g
Protein:
28.8
g
Fat:
3.1
g
Sodium:
235.7
mg