In 30 minutes, lunch is on the table with this spaghetti dish. The light lemony flavor makes this dish pop.
This dish is a quick and easy meal that the whole family is bound to enjoy. Packed with vegetables, this dish is a healthy meal that you will definitely want to add to your weekly menu.
Want to make it even more veggie packed? You might consider swapping out the spaghetti for spaghetti squash!
Zucchini is King!
As the culinary chameleon of the produce world, zucchini is known for its versatility. The mild flavor of this summer squash pairs well with a wide variety of recipes. Many enthusiasts prize zucchini for its limited calories and high nutrient content.
While it is often thought of and used as a vegetable, zucchini is technically a fruit. As a variety of summer squash, it is harvested and eaten while immature. This sets it apart from other types of squash, as does its soft rind.
Zucchini has gained some serious street cred over the last few years. Gone are its days of just being the overabundant green squash in our summer gardens. Today it's a nutritional hero—standing in for pasta in a formerly carb-heavy dish and serving as a delivery device for other favorite foods and ingredients.
Why is Zucchini So Good For Me?
Zucchini is rich in vitamin B6. Research suggests that this vitamin can help with regulating blood glucose. The vitamin may even play a protective role against diabetes. Zucchini is rich in water and fiber, two compounds that promote healthy digestion by reducing constipation and symptoms of gut disorders.
Zucchini contains the water-soluble fiber pectin. Pectin may lower bad cholesterol and lipid levels in a person's blood, promoting good heart health. Furthermore, zucchini is also high in potassium, which can help manage high blood pressure.
In a 1-cup (cooked) serving of zucchini, there are:
Calories: 28

Protein: 1 g

Fat: 0 g

Carbohydrate: 7 g

Sugars: 3 g

Fiber: 3 g (that's 10% of the daily goal for women!)

Sodium: 5 mg
Red vs. Green Peppers
Why should you pick red peppers over the green ones that you regularly see in the grocery store? Red peppers pack the most nutrition, because they've been on the vine longest.
Did you know that green peppers are just unripe red peppers? Green peppers are harvested earlier, before they have a chance to turn yellow, orange, and then red. Compared to green bell peppers, the red ones have almost 11 times more beta-carotene and 1.5 times more vitamin C.
3 Reasons to Eat More Red Peppers
Red peppers contain more than 200 percent of your daily vitamin C intake. Besides being a powerful antioxidant, vitamin C helps your body gain the proper absorption of iron. If you are iron deficient, try combining red peppers with your iron source for maximum absorption.
Red bell peppers are a great source of vitamin B6 and folate. Both these vitamins and minerals can help prevent anemia.
Red bell peppers are packed with antioxidants. The combined effects of vitamin A and C create a great antioxidant capacity, and with lycopene in the mix, the red bell pepper becomes a top notch superfood.
Lycopene is what makes tomatoes and peppers red. Red peppers are one of the highest veggies in lycopene, which has been shown to help prevent many cancers including prostate and lung.
Buying and Storage Tips
Zucchinis are often available at grocery stores and farmer's markets. At the supermarket, zucchini can be found fresh or frozen in many forms, including chopped or as thin strips known as "zoodles."
Many people prefer to grow zucchinis in gardens, as they are a highly resilient squash. Ideally, they should be planted in locations that receive at least six hours of sunlight per day. Little effort is required to produce a high yield, although conditions such as excessive heat or limited moisture can produce a slightly bitter flavor.
When stored in a plastic bag in the fridge, zucchini can usually keep for up to one week. It will also keep for up to three months in the freezer.
As for red peppers, look for firm, glossy peppers that are brightly colored and feel heavy for their size. Pass on any with soft spots or wrinkling. The number of lobes or bumps on the top surrounding the stem of the bell pepper varies, and that can actually help you decipher the best use for it. Generally speaking, those with 4 or more lobes are larger, and best eaten raw. Bell peppers with three lobes contain fewer (or no) seeds, and are best roasted, sautéed, or grilled.
Although they brighten up the kitchen on display in a fruit bowl, bell peppers will stay vibrant for much longer if stored in the vegetable crisper. You'll know when they begin to decline in health because, just like us, their skin shrivels from old age. Bell peppers will last 1 to 2 weeks in the fridge, but once chopped up, just 2 to 3 days.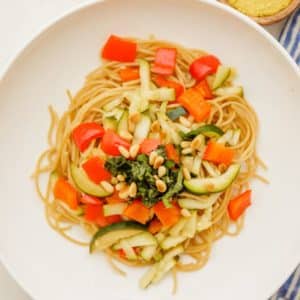 Lemon, Zucchini and Red Pepper Spaghetti
In 30 minutes, lunch is on the table with this spaghetti dish. The light lemony flavor makes this dish pop.
Ingredients
6 1/2

oz

brown rice spaghetti

or your favorite spaghetti

2

tbsp

low-sodium vegetable broth

1

medium

red pepper

diced

2-3

cloves

garlic

minced

1

tbsp

fresh basil

chopped

1

medium

zucchini

grated

1

lemon

juiced

1/4

cup

lemon zest

2

tbsp

pine nuts

2

tbsp

nutritional yeast
Instructions
In a large pan, heat the vegetable broth and sauté the red pepper for 5 minutes.

Meanwhile, cook the spaghetti according to the package directions (10 to 12 minutes).

In a small dry pan, sauté the pine nuts until nicely golden brown. Stir constantly and watch that they don't burn.

To the red pepper add the garlic and the grated zucchini cooking for 15 minutes, stirring frequently.

Stir in the lemon, lemon zest and spaghetti. Mix well. Divide on to two plates or bowls and top with the pine nuts and nutritional yeast.
Nutrition
Calories:
461
kcal
Carbohydrates:
76.6
g
Protein:
14.5
g
Fat:
8.1
g
Sodium:
21.2
mg